Crohn's Charity Services Foundation Cannabis Forum and Award Ceremony in Naples, FL
Yvette Staford, founder of the Crohn's Charity Service Foundation organized a Cannabis Forum at the Unitarian Universalist Church of Greater Naples on Monday, January 7th, 2019. This was an educational event hosted by Dr. Barry Gordon, Director of the Compassionate Cannabis Clinic in Venice, FL. Attendees had the opportunity to listen to medical professionals & patient advocates shared their canna-journey with the crowd.
Complimentary refreshments and a delicious buffet spread was offered and prepared by Chef Jor-El & Chef Lulu. Refreshments, food and chocolate desserts were enjoyable as guests walked around sponsorship tables. Many of Florida's dispensaries were in attendance. The dispensaries known throughout like Curaleaf, Trulieve & SurTerra Wellness, answered questions.
Photo Credit: Jose Belen (Recipient) founder and CEO of Mission Zero, a non-profit assisting combat veterans suffering from PTSD and passionate about veteran suicide prevention. Jose filed a lawsuit against Jeff Sessions in Feb 2018.
To learn more visit www.missionzero.us
It seemed like cannabis advocates from every corner of the state came together after the new year to answer the call for education in Collier County. Spotted in the crowd was Dr. Jenny Wilkins, NMD, CRA founder of AgeVital Pharmacies in Sarasota. . Jenny is a well known media personality and television producer with regular appearances on ABC, NBC, TBN, CBS, the CW and Lifetime. As a health and wellness expert and educator, Dr. Jenny lectures all around the world at various conferences about the endocannabinoid system, functional integrative healthcare, and how natural solutions work to treat a multitude of diseases and illnesses. Hundreds of people listened on about the medicinal properties of the cannabis plant and how the endocannabinoid systems' synergies orchestrate the other systems in the human body. Dr. Jenny has traveled with Yvette Staford and Dr. Barry Gordon hosting cannabis education seminars all over the state for years.
These complimentary events and other community services provided by CCSFFL are made possible by sponsorships and by the donations of people that want to be informed and medical cannabis made available in their region. For more resources and assistance becoming a legal marijuana patient in the State of Florida.
To send in donations make checks payable to CROHN'S CHARITY SERVICE FOUNDATION and mail check and information to: PO Box 11476 Naples, FL 34116
CCSFFL offered the petitions for the regulation of adult use in the State of Florida. A Regulate Florida petition by Michael Minardi Esq., recipient of the Blood, Sweat and Tears award but unable to attend due to prior engagements and his duties in Tallahassee. Mr. Minardi is being recognized for his tireless dedication to the rights of the citizens of Florida.
Full Sail University provided audio and visual assistance for the event by excusing their student, Joshua Almodovar, to use the experience as credit towards his degree.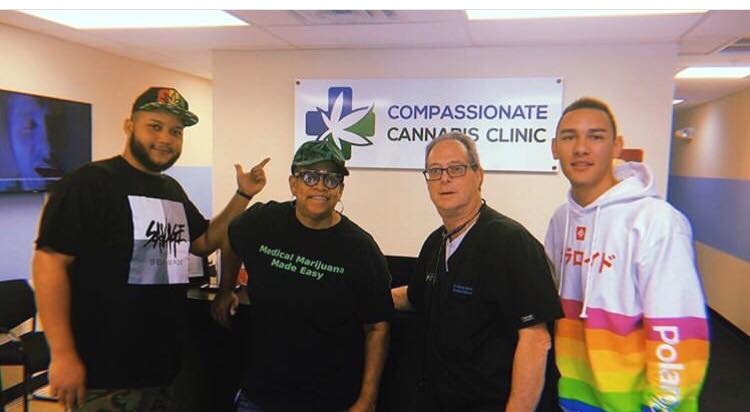 Compassionate Cannabis Clinic with Dr. Barry Gordon
Chef Jor-El Pizarro, Yvette Staford, Dr Barry Gordon and Joshua Almodovar